TheLuttrells.com

Copyright 2004-12 Glenn Luttrell

Close this window to return to previous page

Col. Henry Luttrell

b.    d.  Oct 1717

second son of Thomas Luttrell of Luttrellstown

Col. in James II Army in France and Ireland

Suspected of treason at Battle of Aughrim

Openly joined with King William after Treaty of Limerick

Succeded to Luttrellstown after confiscation from Col. Simon, his brother

Professed to be Roman Catholic 1699, but apparently died a Protestant

Sons educated in England as Protestants

Assasinated Oct. 1717 probably by a Jacobite

It is said that at the time of the Irish Rebellion in 1798 (Col. Luttrell's grandson, Henry Lawes Luttrell, was Commander-in-Chief of the English forces), the grave of Colonel Henry Luttrell in Clonsilla Churchyard was opened and his skull smashed. 

m. Elizabeth Jones (dau. of Charles Jones)

CHILDREN OF HENRY AND ELIZABETH

ROBERT LUTTRELL, the eldest, died in 1727 while traveling abroad

SIMON LUTTRELL (VI), 1st Earl of Carhampton, succeded to Luttrellstown

"On Nov. 3, 1717, Henry Luttrell, soldier and suspected betrayer of the Jacobites, was assassinated in Dublin. Luttrell was born about the mid-1650s and raised on his family's estate at Luttrellstown, Co. Dublin. As an adult, he served for a time in the French army before joining the Jacobite army of James II.

Luttrell commanded cavalry under Patrick Sarsfield in Ireland during the Williamite War. Sarsfield, a long time friend of Luttrell's, considered him one of his best commanders. At Aughrim in July 1691, Luttrell's troops failed to hold a vital causeway on the Franco-Irish left flank. Though many military historians would say his force was simply not large enough to hold the position and was unsupported by others whom might have come to his aid, Luttrell's later conduct caused his actions at Aughrim to be questioned.

In Limerick on August 2, Sarsfield discovered a letter from a Williamite officer to Luttrell regarding discussions they had had during a truce about possible surrender terms.  It is probable that Luttrell entered into these discussions in an innocent manner, but Irish commander, Richard Talbot had Luttrell court-martialed.  He was found innocent, but after the surrender of Limerick he was one of the few Irish officers who went over to the English side. Luttrell received £500 a year and possession of his brother's estate (Luttrellstown) from William of Orange; his brother followed Sarsfield to France.   Many Irishmen were sure it was blood money for betraying them at Aughrim, and he was shot in his sedan chair in Dublin.  His murderer was never caught.  Luttrell was so hated in Ireland that in 1797, 80 years after his death, his skull was taken from his grave and smashed."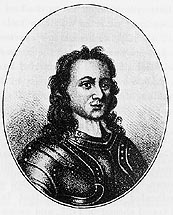 For more information about

The defeat of James II's Jacobite army (Roman Catholic) by the forces of William of Orange (Protestant)

From "The Luttrells of Luttrellstown"

by M. J. Bourke (Recorder of Cork)

"A critical juncture in the fortunes of the house (of Luttrell) arose on the breaking out of hostilities between James II. and William of Orange.  The Luttrells like most of their countrymen declared for the Stuart King.  At that time the owner of Luttrelstown was Simon Luttrel, M. P. for Dublin.  He was an honest man, and was appointed by James II. Military Governor of Dublin.  His younger brother, Henry, was a person of different character.  He had seen military service in France, had some abilities as a soldier, but was at heart a self-seeker, a time-server, and a born intriguer.  The two brothers raised two squadrons of cavalry for the Irish Army, Simon being made Colonel of Dragoons, and Henry Colonel of a regiment of Horse in the Royal Service.  Henry fought at the Boyne and at Aughrim.  He was suspected of having betrayed the Irish at the Battle of Aughrim, and this treachery on his part was supposed by many to have been one of the main causes of their defeat.  Later on, during the Siege of Limerick, some correspondence of his with an officer of William's Army fell into the hands of Sarsfield, and led to the trial of Henry Luttrel by courtmartial.  Some of the members of the tribunal were friends of his, and the Court were divided in opinion.  At this time he was a prisoner in the Castle of Limerick, and the Viceroy, Tyrconnell, would have had him shot, but for a significant message from the Williamite Commander, Ginkell, that he would hang ever Irish Officer in his power if Luttrel were touched.  A report was forwarded to France to King James, requesting his directions concerning the accused, but the Treaty of Limerick was signed, and the City was surrendered, before the King's decision arrived.  Luttrel was accordingly released.

The suspicions that had been gathering around him were strengthened by subsequent events.  While his brother, Simon, with Sarsfield and the flower of the Irish Army, following the fortunes of James, went to France and entered the French service, Henry Luttrel remained in Ireland and threw in his lot with William.  Simon's estates, including his old ancestral home of Luttrelstown, were declared forfeited, and were bestowed on Henry.  He entered King William's service, receiving an annuity of 500 pounds a year as payment, it is supposed, for his treachery, but alleged to be in consideration of his bringing over his Horse Regiment of twelve troops.  He was admitted to the confidence of William's Government, attended the King in Flanders, and was appointed Major-General in the Dutch Army.  After William's death he retired to Luttrelstown, and chiefly resided there.  His brother, Simon, served with distinction on the Continent, and died abroad, leaving his widow Catherine, but no issue.  This widow was treated barbarously by Henry.  He refused to pay her the jointure she was entitled to, and he prevailed upon the tenants of Catherine's own lands to pay their rents to him.  On her setting out from France for Ireland to assert her rights against him, he wrote to a British Minister requesting that she might be prevented from coming to Ireland, or, if she did come, that he might be allowed to put the Act of Attainder in force against her!  This base request was refused.  The widow came to Ireland and successfully enforced her rights against him, recovering her lands and all the arrears of her jointure.

F. E. Ball, in "A History of the County Dublin" writes. . .

"From Colonel Henry Luttrell's time a cloud of evil tradition and unpopularity has hung over the Luttrells, and probably the frailties of no family have ever been more fully chronicled than those of the Luttrells in the eighteenth century.

_____________________

And, from a poem written about Henry Luttrell in 1809

"If heav'n be pleas'd, when mortals cease to sin --

And hell be pleased, when villains enter in --

If earth be pleas'd, when it entombs a knave --

All must be pleas'd -- Now Luttrell's in his grave"

This page was last updated on: April 24, 2013
The Difference between two brothers. . .

Those who had effected this revolution thought it prudent to send a deputation to France for the purpose of vindicating their

proceedings. Of the deputation the Roman Catholic Bishop of Cork

and the two Luttrells were members. In the ship which conveyed them from Limerick to Brest they found a fellow passenger whose presence was by no means agreeable to them,

their enemy, Maxwell.

They suspected, and not without reason, that he was going, like

them, to Saint Germains, but on a very different errand. The

truth was that Berwick had sent Maxwell to watch their motions

and to traverse their designs. Henry Luttrell, the least scrupulous of men, proposed to settle the matter at once by tossing the Scotchman into the sea. But the Bishop, who was a man of conscience, and Simon Luttrell, who was a man of honour,

objected to this expedient.80

The History of England from the Accession of James II, Vol. 4

by Thomas Babington Macaulay